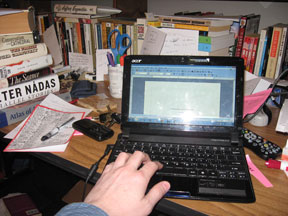 I'm told Sou'wester is throwing a Come As You Are Party. Well, here I am, or my hand, anyway, at my mess of a work desk. Reason #1 for the mess: I'm eyeballs-deep in the final revision of my novel-in-progress, which will be titled The Sexual Lives of Missionaries. Reason #2: This is how messy my desk always gets, and the only reason it ever gets less messy is because I keep a to-do list, and on the fourth Thursday of every month, I tend the line item that reads: "Clean your desk."
The stack of books on the left is part pleasure reading, part research. The Atlas of Anatomy and Gray's Anatomy are for the novel that will follow the novel I'm writing. Its construction requires me to know more than I now know about bodily organs, their natures and appearances, and how they decay after death. (There's a stack behind this stack on the subject of "morbid anatomy," which means that every time I leave the library I get funny looks from the desk clerks, who surely wonder whether I'm a medical student or an axe murderer.)
I found the Singer books at John King Books in Detroit, Michigan. What a place! My friend Ben Stroud brought me there a few weeks ago and showed me around. It's a five-story warehouse in the middle of the city, and every spare square foot is crammed floor-to-ceiling with books. It's too expensive to light and heat the place, and it's cold in Detroit this time of year, so there are space heaters where you can warm your hands and body on every other floor, and there are lights above each section of books that you can activate by pulling a long cord which is attached to the light switch. You'll note two different Singers in the stack to the left. I thought I owned everything Isaac Bashevis Singer had brought into English, but I realized, at John King Books, that his Collected Stories are really a Selected Stories — the individual volumes are full of stories I'd never read before, so now I'm trying to track down all of them. I haven't read much of the older Singer brother — Israel Joshua — but of course I had to get a copy of The Family Carnovsky, since it must have been the book from which Philip Roth lifted the title Carnovsky as the fictional stand-in for his own Portnoy's Complaint in his earlier Zuckerman books which make great play with all these inter-textual thises and thats. I'll confess, I haven't yet read The Family Carnovsky.
The other books in that stack are Mario Vargas Llosa's Conversation in the Cathedral, Adam Johnson's The Orphan Master's Son, and Peter Nadas's Parallel Stories. All three are big, fat, weird novels, and I love big, fat, weird novels. These three were worth the time they took to read, for sure, although they triggered a terrible occupational hazard: The whole time I was reading them, I was re-writing them in my head, trying to conform the reality of them to the idea I had of them before I read them. This habit of mind is a disservice to the writer and the book, and I want to try to find a way to curb it, because it diminishes the good pleasure the reader is due.
Other things you might see in this photograph: keys, pens, dry-erase markers, a TV remote, a cell phone, the wallet, a business card for a Syrian foreign aid worker specializing in rebuilding in Haiti, a flash drive, a to-do list, an itinerary for a job interview, notes toward a projected poetry collection, blue-handled scissors, a phone number with a reminder note to call Samantha Chang, a stapler, an Acer netpad, my left hand, and a Precious Moments mug that must at some point have been a gift to a beloved aunt ("Aunt," it lies: "One who makes the joy of family complete." Really?)
What really interests me, though, is the books. My favorite books aren't mostly in this picture — they're on shelves behind my stand-up desk, three feet away. (This picture is from my sit-down desk, which is a reclaimed art table purchased at a fire sale at a boarded-up elementary school for five dollars.) Many of the books I see in this picture, though, are interesting in some way that makes me want to have them around. In the upper right-hand corner, for example, you can see the four volumes of the out-of-print Young Adult series U.S.S.A., which stands for the United Secure States of America. It was put together in the 1980's by a book packager named Byron Preiss, and it more or less predicted the Bush Administration. I want to write about this some time, and I've interviewed some of the people who worked on the series, but it sure is a lot of work, and it doesn't really pay, and I've never got around to finishing the project.
You can also see spines or parts-of-spines of books I keep around to remind myself that a writer can do anything, can be formally daring in ways that would horrify every proper writing teacher in the world. Among these: Tim O'Brien's In the Lake of the Woods, a few volumes of Lawrence Weschler, John Berger's Collected Essays, Jaroslav Pelikan's Jesus Through the Centuries, David Mitchell's Cloud Atlas, Ben Marcus's Age of Wire and String, Eula Biss's Notes from No Man's Land, Matt Bell's How They Were Found, Thornton Wilder's The Bridge of San Luis Rey, Thomas Bernhard's Correction, and Denis Johnson's Train Dreams. On the floor, in the lower left-hand corner of the picture, you can see the book I admire above all books, Philip Roth's American Pastoral. (Book porn, this is called. Is this boring? Probably it is, if you don't like books. I wish, though, that every writer I admire would send me a picture of their bookshelves. I want to see what they value, and try to imagine what elements conspired to create the minds that made the things that make my heart beat so hard.)
What am I thinking about, today? Well, I'm thinking about the fate of an imaginary eighteen-year-old girl who elopes with a bachelor missionary in his early forties and runs away with him to Haiti, where he promptly dies, and then all hell breaks loose. I'm also thinking about the relationship between a Southern Baptist boy and the tennis-playing Jewish grocery clerk he believes to be a Lubavitcher, the plight of the football coach who once loved the boob doctor's daughter, a "fiery angel" who spends his time in heaven praying for Bacardi 151 so he might ply his trade of fire-breathing, five or six real-life suicides that continue to bedevil my sad imagination, the exigencies of buying bus and train tickets to Chicago and New York, the question of what to say to the young writer in my advanced fiction class whose work doesn't really need much other than time and encouragement, and how to scrape together the cash to buy a LEGO Mindstorm machine for an eight-year-old boy who has been desperately wanting it for two years.
It's a surprisingly active interior life characterized by long and physically passive stretches, butt in a chair, fingers typing, eyes wandering, the sounds of birds outside the window, the sounds of children playing in the back room, the smell of food cooking in the kitchen, the eyes of a less-than-benevolent God hot at my neck, while hurricanes batter Third World villages, and tornadoes flatten barns and houses in Kansas, and tsunamis trigger nuclear meltdowns in Japan, and on the television in the living room, a man who is running for President of the United States just said that maybe people ought not go to college, since universities are "indoctrination mills." So much trouble, and my job is to sit here in the seat and lasso and package as much of it as I can, and make it sing for you. Back to work.
Here's an excerpt from "Navel Gazing: An Essay," which appeared in the Fall 2010 issue. More about Kyle can be found here.