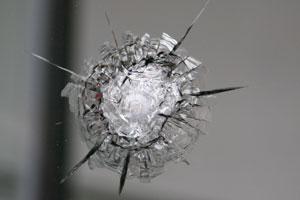 Joseph Levens has a way of messing with your head. What's in a name, he asks. Where is the line between the literal and the metaphorical? What's all this about sex and death?
Joseph's fiction has appeared in Sou'wester numerous times, including the Spring 2012 issue.
"Gunner" begins:
My boyfriend's name is Gunner and there is a reason for this. The sex is good, great even, but when he comes, boy and girl here have a little problem: a bullet is shot out instead of semen, at the same velocity as if fired from a rifle.
[VV]


"Bullet Proof"
John Linwood, used under CC BY-NC-SA 2.0